Yes and no. Sort of.

Just like all other aspects of the 'diet' industry, it depends on who's talking.

Figuring it out been a challenge even for me, a dyed-in-the-wool research scientist.

I don't see how the public has a chance to sort out all the confusion.

So I undertook to get some answers to see what the real story is.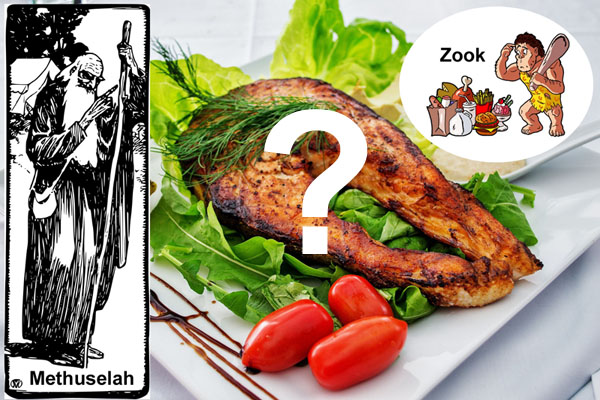 It would have been great to find a 'Methuselah Diet' – as if eating right could also get YOU to 969 years old.
Or an ancestral diet for living beyond the average 30-year life expectancy of cavepeople. (Although we do have a modernized version of it, called the 'Paleo Diet'.)
I did find a wide range of recommended diets that supposedly fit the bill. (The title of that old-time spaghetti western with Clint Eastwood, The Good, the Bad and the Ugly, gives you an idea of what's out there.)
After quite a bit of research…
by evaluating key books
by looking over hundreds of research studies
by comparing what health professionals have to say
…here's what I've found:
Eating right for longevity is possible,
just not how most advice would have you believe.
So what I did is put together a Special Report explaining the best and the worst of the 'longevity diet' industry.
It's appropriately titled, The Longevity Diet: Myths and Truths.
You'll be surprised to learn about common myths that are widely accepted as truths.
And you'll be surprised to see some truths completely missed by nearly all so-called experts.
I've put my heart into it – after all, I have a vested interest in extending my own senior years as healthily as possible.
Now you, too, can benefit from what I've learned.
While I would dearly like you to have it, I'm not going to give it away.
So I charge a nominal price for it, for two reasons:
It's simply human nature to see a greater value in something when it's not free. (And I REALLY want you to get value from my report.)
It allays at least some of my expenses.
The extra bonus to you is that, once you see what I've got to say, you'll never want to buy another diet book again. I'm not sure how much you could save, although a cursory inspection of even the used longevity diet books on Amazon show they often start in the neighborhood of $10-$25.
If all that makes sense to you, then the small price I charge for my report ($2.77) should be acceptable.
Besides, if it doesn't measure up to your expectations, I'll simply refund your payment in full, no questions asked. (Or I can buy you a [senior-discounted] cup of coffee at McDonald's if you wish.)
(Actually, that last part isn't true – I might ask for your feedback on how you think I could improve it.)
Go ahead and take the plunge!
I'm looking forward to 'seeing' you!
All the best in natural aging,