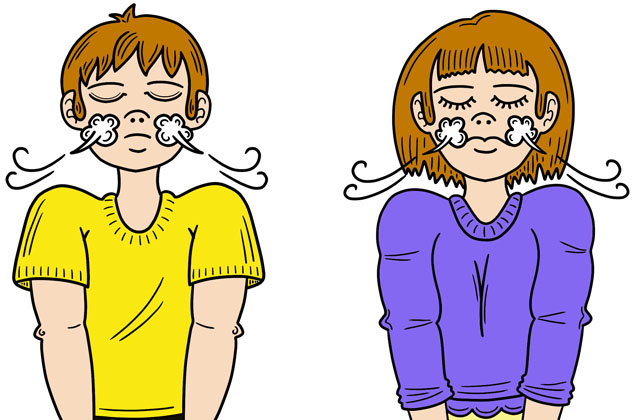 It's super simple to breathe right. And very beneficial. In fact, breathing wrong can actually cause a number of serious health conditions.
Images by Raka C. from Pixabay
By the way, toward the end of this post I'm going to tell you what the #1 predictor of longevity is. (HINT: It involves how you breathe.)
Here's potentially a big surprise: there's a right way and a wrong way to breathe.
You probably take the ability to breathe for granted. However, only when you breathe right can you get all the benefits to your to physical, mental, and sexual health.
This has become a hot research topic, since too many people aren't doing it right. And suffering health consequences for it.
BEFORE READING ON … ARE YOU, LIKE ME, A SENIOR WHO'S INTERESTED IN STAYING HEALTHY FOR YEARS TO COME? IF SO, YOU MIGHT LIKE TO SEE WHAT A SCIENTIST (ME) HAS TO SAY ABOUT HOW TO ACHIEVE IT AT NO EXTRA COST TO YOU, WITHOUT EVEN HAVING TO LEAVE HOME, STARTING HERE: HEALTHY AGING NATURALLY.
Now back to today's sponsor … correct breathing.
Summary of How to Breathe Right
Let's cut to the chase right up front. (Details to follow.)
Here are three simple rules for how to breathe right:
Rule #1. Breathe through your nose, NOT your mouth.
Rule #2. Breathe by inhaling for ca. 6 seconds and exhaling for ca. 6 seconds, with an easy transition between the two.
Rule #3. Belly-breathing – expanding your belly when inhaling, NOT your chest.
Here's what I suspect you'll find when you simply pay attention to how you're breathing:
You'll catch yourself mouth-breathing for some portion of the day.
If you time your breaths, they come too fast.
You expand your chest when you breathe.
At least those are what I noticed when I started paying attention to my breathing.
My solution? Check my breathing often, then focus on doing it right according to those three rules above.
I still find myself not breathing right. My improvement comes from catching it often and correcting it.
After a little practice doing this all day, my most frequent 'catches' are now mostly breathing too fast.
In other words, I've got the nose-breathing and the belly-breathing down.
Now let's go over a few things I think you should know about how to breathe right and what to expect if you don't.
In case you're super interested in the topic (which I think everyone should be), James Nestor has a fantastic book on the science of breathing, Breath: The New Science of a Lost Art.
It's full of amazing information about breath. A phenomenal resource.
Barring that, the rest of this article hits some of the more important highlights on the science of breath.
It's About More Than Oxygen
Before I get too far, here's perhaps the biggest surprise I learned in Nestor's book:
Taking in oxygen (O2) is only part of the story. We also depend on carbon dioxide (CO2) to make the oxygen work better.
In other words, the classic generalization we all learned in basic biology about CO2 being just a waste product is flat wrong.
The reason CO2 is so important rests on its multiple roles in our physiology. Just three of them explain a lot:
CO2 loosens O2 from hemoglobin. This role is clearly important because it makes oxygen available. Just having it stuck to hemoglobin, which is its tendency in the absence of carbon dioxide, does no good. This is the basic principle behind the Bohr effect, first described by the Danish physiologist, Christian Bohr – back in 1904!


.


SIDENOTE #1: This means cramming extra oxygen into your lungs won't make oxygen more available. It also explains why intubation of patients with COVID-19 has such a high fatality rate.
CO2, not O2, directs the body when to breathe. This role is based on a set of nerves at the base of the brain stem acting as CO2 receptors. When CO2 levels increase, those flooded receptors create a nagging need to breathe. When we breathe too quickly, the lower CO2 levels direct the body to breathe more slowly.


SIDENOTE #2: If you find yourself short of breath, such as during exercise, slowing down your breathing will raise your levels of available O2. This is counterintuitive, since you'll initially feel a need to gasp. However, if you're wearing a pulse oximeter, you'll see your O2 levels rise. I'll admit, this does take some getting used to.

Once it's dissolved in blood, CO2 forms carbonic acid. This key role involves the regulation of blood pH. Healthy blood pH relies on a narrow range, which is mostly controlled by the kidneys. The balance depends on maintaining healthy concentrations of carbon dioxide (for acidification) with those of bicarbonate (for alkalinization).


SIDENOTE #3: This role undermines the use of the highly popular 'alkalized water' for controlling pH. Ain't gonna happen.
AN UNRELATED SIDENOTE: Just FYI … this third point – about how dissovling more CO2 increases acidity – explains why the increasing levels of atmospheric carbon dioxide are driving the acidification of Earth's oceans. Just a thought.
Top 10 Truths About Breathing
The best quick summary I've found based on Nestor's book is very informative. You can see the full article here: We Have Forgotten the Power of Breath.
Nestor's 10 truths about breathing give you some more details about how to breath right, as follows:
Truth #1
There are many negative effects of being a mouth breather. You make yourself more susceptible to respiratory ailments, and you deny yourself of more oxygen. When mouth breathing starts at a young age, you can also change your facial structure's shape. The bones in your face and jaw will start forming to that slack jog posture, resulting in a long face. (One consequence is a narrow mouth, making for tooth crowding. This is the foundation of the orthodontics industry.)
Truth #2
We take the art of practicing how to breathe for granted. This lack of understanding of how to breathe is the reason for the many challenges we are faced with as humans — whether it be our teeth, inflammation, or the ability to exert energy in workouts.
Truth #3
When we breathe through our noses, we dictate how the air should be coming in and how we should be using it. It's harder to breathe through the nose because it requires more time to pressurize the air that enters it. This allows our lungs to absorb more oxygen. You get 20% more oxygen breathing through your nose than you do from equivalent breaths through your mouth.
Truth #4
There is no such thing as a "best breathing strategy routine." Everyone's different! Some people may benefit from deep breathing, while others prefer the Wim Hof Method. What is important, though, is to breathe through your nose.
Truth #5
There are many reasons why we cannot breathe through our noses. It can be because of sleeping disorders such as sleep apnea (which can be solved through oral pharyngeal exercises) or other environmental factors. Add pollution, allergens, or working in an office in an uncomfortable chair to the combination, and you have stress as the answer. By this time, you can't take a deep breath, even if you want to.
Truth #6
Breathing through our noses has the benefit of allowing air to enter our nostrils alternately. This natural cycle affects us physiologically and mentally. There are about 20 years of studies showing that you will lower blood pressure when you breathe through the left nostril and stimulate more of your brain's right creative side.
When you breathe through the right nostril, you'll experience the opposite effect. It stimulates you — blood pressure goes up, heart rate goes up. This is similar to a yoga practice called alternate nostril breathing. Using alternate nostrils can elicit different moods or put you into different emotional states.
Truth #7
Research and science back up the claim that breathing through the nose can help cure asthma or other respiratory problems.
Truth #8
Breathing through the nose can help those who struggle with extreme anxiety or panic attacks. By controlling your breathing, you can take control of your thoughts. 80% of the messages are coming from the body to the brain, not from the brain to the body. So allow yourself to think, but slow down your breathing to the way that you should be breathing. You will then start shooting calming messages into your brain to take control of those emotions.
Truth #9
Breathing through your nose releases a significant amount of nitric oxide. Nitric oxide can be artificially produced in laboratories and is stimulated by sex enhancement drugs such as Viagra. Also, nitric oxide helps to fight or reduce symptoms for viruses responsible for flu and COVID-19.
Truth #10
Proper breathing can reverse aging. This has to do with enlarging lung size, leading to larger lung capacity. Lung size is a very accurate marker for life span. You can't do anything about your genetics, but you can do something about your breathing. If you can really focus on that, your body's health will show some substantial difference.
The Cat's Out of the Bag on Lifespan
OK, as promised, Truth #10 gives you the #1 predictor of lifespan – i.e., lung capacity.
The bigger your lungs are and the better they work predict your longevity, as depicted in this graph: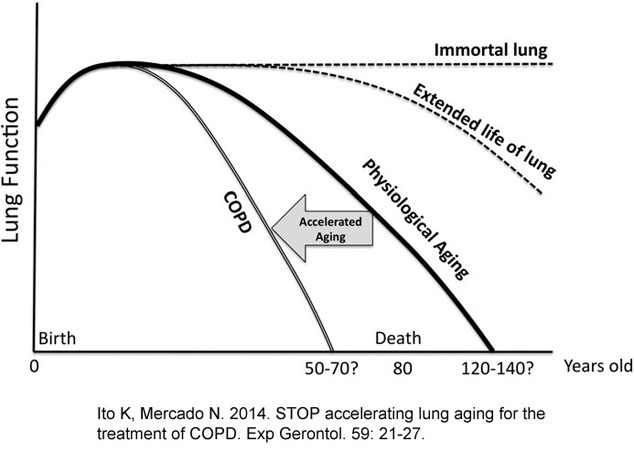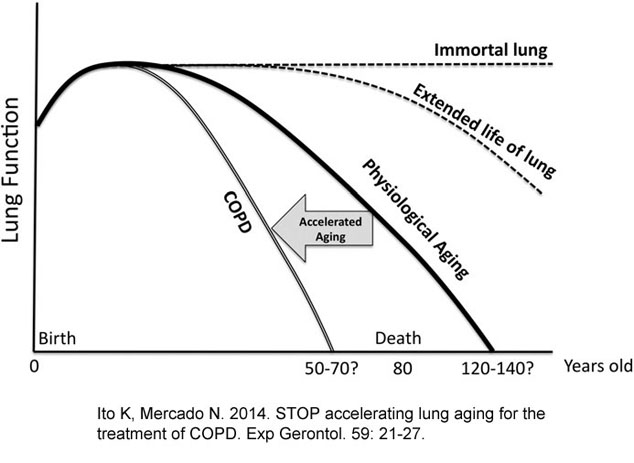 THE GOOD NEWS?
It's this: you can improve your lung capacity by – you guessed it – breathing right!
Therapeutic Breathing
Of course, simply getting on track for ordinary breathing is a good start. Just check your breathing throughout the day. Then conciosly focus on correct breathing. This will be helpful, even is you subconciously slip back into poor habits.
The more often you check and correct, the better your breathing will become over time.
Now that's not really what I mean by therapeutic breathing.
What that means is breathing to correct a medical condition.
Many breathing techniques are known to correct certain medical conditions. The most prominent one might be the Buteyko Method.
It was created in the 1950s by Ukrainian physiologist, Konstantin Buteyko.
It's popularity continues to this day with a company founded in 2002 by a Buteyko instructor, Patrick McKeown: Buteyko Clinic International.
That site if full of ideas and approaches for how to do the technique, so I won't go into all of them here. Just noodle around there and you'll find loads of good information about how to use the Buteyko Method and what you can expect from it.
Although modern medicine turns a blind eye to free stuff such as breath therapy, some pretty good research supports what Buteyko was advocating more than 70 years ago. Most research has focused on treating asthma, although many other respiratory conditions can also improve by using this technique.
See also: 15 Breathwork Benefits: The Science Behind Breathing Practices. Excellent resource!
Substitute for Psychedelics?
One of the more interesting applications of breathing therapy – aka, breathwork – comes from the impact of breathing on your mind and perception.
Shamans and medicine men have used it throughout the ages.
The modern version might best be represented by the approach called Holotropic Breathwork at Grof Transpersonal Training.
The mover and shaker behind this technique, Dr. Stanislav Grof, first made his name in psychology research using LSD. This topic had its heyday in the 1950s, then slacked off during the 'hallucinogenic' 1960s. The latter led to a drug war started in the 1970s by President Richard Nixon's myopic view of hallucinogenic drugs.
Research on psychedelics slowly became resurrected in the 1990s. Now we have 'microdosing' clinics around the country for learning how to use LSD, magic mushrooms, peyote, and (yes) even hallucinogenic toads.
Meanwhile, Grof has refocused his work away from psychedelics, instead expanding on how breathwork can mimic psychedelics.
It's pretty fascinating, although probably not a do-it-yourself technique. It does seem to require some professional guidance (meaning, it's not free).
Bottom Line: Zip It and Slow Down
In other words, keep your mouth shut as much as you can.
And slow down your breathing to around 10 breaths per minute.
That's pretty much it.
I'd also recommend digging into some of those other resources I've linked to here.
Get out into the world of correct breathing and see what you can do for yourself!
Comments or Questions?
I'd love to hear from you. This and every other post here provides a comment section at the end of the post, exactly for that purpose.
So, by all means, leave me your thoughts.
I promise I'll respond in real English, not 'science' (at least not TOO much!).
I would be especially grateful if you point out any flaws in my logic, factual errors, or ordinary typos. (I'll give you a little 'huzzah' in my heart.)
Then I'll get back to you as soon as I can.
References
Ito K, Mercado N. STOP accelerating lung aging for the treatment of COPD. Exp Gerontol. 2014 Nov;59:21-7. doi: 10.1016/j.exger.2014.03.014. Epub 2014 Apr 5. PMID: 24709339. https://pubmed.ncbi.nlm.nih.gov/24709339/
Luis R Hernandez-Miranda, Carmen Birchmeier (2015) Breathing: CO2 in the spotlight eLife 4:e08086 https://elifesciences.org/articles/08086
Patel S, Miao JH, Yetiskul E, et al. Physiology, Carbon Dioxide Retention. [Updated 2022 Dec 26]. In: StatPearls [Internet]. Treasure Island (FL): StatPearls Publishing; 2023 Jan-. Available from: https://www.ncbi.nlm.nih.gov/books/NBK482456/
Santino TA, Chaves GS, Freitas DA, Fregonezi GA, Mendonça KM. Breathing exercises for adults with asthma. Cochrane Database Syst Rev. 2020 Mar 25;3(3):CD001277. doi: 10.1002/14651858.CD001277.pub4. PMID: 32212422; PMCID: PMC7096190. https://www.ncbi.nlm.nih.gov/pmc/articles/PMC7096190/
Schünemann HJ, Dorn J, Grant BJ, Winkelstein W Jr, Trevisan M. Pulmonary function is a long-term predictor of mortality in the general population: 29-year follow-up of the Buffalo Health Study. Chest. 2000 Sep;118(3):656-64. doi: 10.1378/chest.118.3.656. PMID: 10988186. https://pubmed.ncbi.nlm.nih.gov/10988186/
Vagedes J, Helmert E, Kuderer S, Vagedes K, Wildhaber J, Andrasik F. The Buteyko breathing technique in children with asthma: a randomized controlled pilot study. Complement Ther Med. 2021 Jan;56:102582. doi: 10.1016/j.ctim.2020.102582. Epub 2020 Oct 23. PMID: 33197659. https://pubmed.ncbi.nlm.nih.gov/33197659/
Zheng W, Zhang X, Dong J, He J. Facial morphological characteristics of mouth breathers vs. nasal breathers: A systematic review and meta-analysis of lateral cephalometric data. Exp Ther Med. 2020 Jun;19(6):3738-3750. doi: 10.3892/etm.2020.8611. Epub 2020 Mar 19. PMID: 32346438; PMCID: PMC7185155. https://www.ncbi.nlm.nih.gov/pmc/articles/PMC7185155/
All the best in natural health,

DISCLAIMER
Statements on this page have not been evaluated by the Food and Drug Administration. Information here is not is not intended to diagnose, treat, cure, or prevent any disease.
This site contains affiliate links to products.
I may receive a commission for purchases made through those links.
This doesn't change the cost to you.